List of Zommer's Drop Dead Threads wares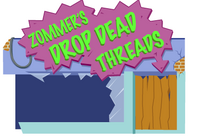 Zommer's Drop Dead Threads is one of the shops in the Marketplace located at Sludge Street. It is owned by a Zommer in the original colours. It stocks clothing designed primarily for Zommers such as an eyepiece (looks like something out of Terminator or the Borg) to cover their missing left eye. The shop has a ripped purple carpet and stone walls, making it look like an unfinished basement.
Moshipedia
Main article: Moshipedia
Zommers love dressing up, especially to celebrate Halloween, and where else would they buy their outfits from other than Zommer's Drop Dead Threads? They wouldn't be seen dead wearing anything else! This shop stocks some more unusual items, including eyepieces and worm earrings!
Gallery