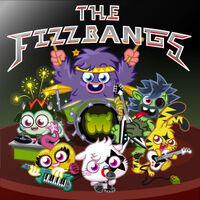 The Fizzbangs are a Monster band that often spends time in the Underground Disco. They went on a tour back in February of 2009, which was all covered by The Daily Growl. In addition, according to a comic, they went on a worldwide tour called 'No Comment'.
The Fizzbangs have also been called The Moshi MonStars through multiple pieces of media; it is unknown whether they renamed or not, however.[1]
Members
Music
Monstrocity (No Comment tour)
Moshi Monsters Theme (as The Moshi MonStars)
Biography
Monstro City's hometown heroes, The Fizzbangs, are back with their very first single. To honor their hometown they named it Monstrocity.
Ruby Scribblez of Shrillboard Magazine recently described the Fizzbangs as "the hottest band in Monstro City". And she might be right because this wild bunch of monsters can do no wrong...well okay, they can, because their recent tour was almost a disaster!
First their tour bus, nicknamed the Double Decker Eardrum Wrecker, was vandalised by Pilfering Toucans; then Riff Sawfinger, their awesome Zommer guitarist, had to sew on a new hand after the first one got squashed in the Slime-o-Dome (lucky he carries a sack of spares). Thankfully, the Fizzbangs went on to pluck, bash, tinkle, scratch and yell their way to glory. They even got to plop their paws in the wet cement outside the famous YowYow Theater. Rock and roll!
Like
Lava lumps (with all the brown ones removed).
Dislike
Rival Moshling band, the Beastles.
Moshi Monsters Magazine
Issue 60: Battle of the Gooperstars!
Riff Sawfinger... on screaming guitar: He rocks until he falls apart!

Thwack... on drums: A frantic Furi who can keep a good beat - unless he's had too much wobble-ade!

DJ Demonsta....on decks: This hot-headed DJ smashes records - and everything else - when he loses his cool!

Missi Tinkles... on guitar: She tries to keep harmony within the group!

Avril Lascream... on vocals: The Fizzbangs' small but explosive singer!

Axl Van Slap... on guitar: A huge talent with an even bigger ego

Described by Shrillboard Magazine as the "hottest band in the land", the Fizzbangs brought the roof down on their last tour. It literally fell on their heads. Riff's head was sliced clean off in the collapse, but don't worry - he always keeps a spare in the tour bus!
Trivia
In Part 5 of Fizzbangs On Tour, Boogie Woogie Bluegill Boys are mentioned. These are a species only mentioned in Cali's dislikes.
You can get the Fizzbangs Poster by submitting the code DEMONSTA and DISCO. You can also buy it at the Bizarre Bazaar.
They were incorrectly referred to as The Moshi MonStars in a comic.
References