This article is incomplete!

This article is incomplete, and isn't finished just yet. If you would like to help out with this article's completion, please check this article's history and contact the editor in question. Thank you.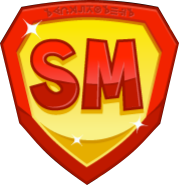 The Super Moshi Missions are a series of fictional interactive episodes, creating a plot between the Super Moshis and their battle against the Criminal Leage of Naughty Critters (C.L.O.N.C.).
At the conclusion of each mission, a reward is given. In main missions, this is usually a Moshling. To date, all mission rewards have been one Moshling apart from "Cosmic Countdown" which yielded all four Zoshlings.  
Missing Moshling Egg and missions from season two onwards have the EPICS feature, allowing the player to earn extra Rox and XP when found within the duration of the mission.
To date, twenty six missions have been released over three seasons with the third season partially incomplete and will likely stay that way. Missions in season three consist of three parts per mission.
Mission 1: Missing Moshling Egg is available for everyone to play, the rest are available for Members only. Once solved, they can be replayed at any time.
All missions can be accessed via the Super Moshi launcher in the player's room.
Season 1 missions were given by Elder Furi are accessed at the Super Moshi HQ in the Volcano. Season 2 missions are given by Tamara Tesla and Captain Squirk in the Unknown Zone on Music Island. Season 3 missions are only accessible via the launcher.
Overview
Season
Missions
Series premiere
Season finale
  1  
10
6th December 2010
8th December 2011
  2  
10
13th March 2012
6th December 2012
  3  
6
8th February 2013
N/A
Season & Episodes
Volcano preview images