This article is incomplete!

This article is incomplete, and isn't finished just yet. If you would like to help out with this article's completion, please check this article's history and contact the editor in question. Thank you.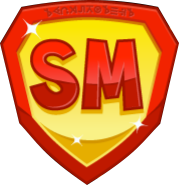 The Super Moshi Missions are a series of fictional interactive episodes, creating a plot between the Super Moshis and their battle against the Criminal Leage of Naughty Critters (C.L.O.N.C.).
At the conclusion of each mission, a reward is given. In main missions, this is usually a Moshling. To date, all mission rewards have been one Moshling apart from "Cosmic Countdown" which yielded all four Zoshlings.  
Missing Moshling Egg and missions from season two onwards have the EPICS feature, allowing the player to earn extra Rox and XP. Replaying missions results in the player re-earning the reward.
To date, twenty six missions have been released over three seasons with the third season currently partially incomplete. Missions in season three consist of three parts.
Mission 1: Missing Moshling Egg is available for everyone to play, the rest are available for Members only. Once solved, they can be replayed at any time.
All missions can be accessed via the Super Moshi launcher in the player's room.
Season 1 missions were given by Elder Furi are accessed at the Super Moshi HQ in the Volcano. Season 2 missions are given by Tamara Tesla and Captain Squirk in the Unknown Zone on Music Island. Season 3 missions are only accessible via the launcher.
Overview
Season
Missions
Series premiere
Season finale
  1  
10
6th December 2010
8th December 2011
  2  
10
13th March 2012
6th December 2012
  3  
6
8th February 2013
N/A
Character appearances
Key:

 

 Did not make an appearance
Character Name
Season One
Season Two
Season Three
1
2
3
4
5
6
7
8
9
10
1
2
3
4
5
6
7
8
9
10
1
2
3
4
5
6
Dr. Strangeglove
Sweet Tooth
Elder Furi
Super Moshi
etc
List of missions
Season One (2010-11)
No.
Overall
Title
Original release date
Villain
Reward
1
1
Missing Moshling Egg
6th December 2010
"Master"
Baby Rox
Buster Bumblechops has reported that a Rare Moshling egg has been stolen from his Incubation Station. You must locate the missing egg and return it to Buster Bumblechops.
Note: First appearance of
2
2
Voyage Under Potion Ocean
14th February 2011
Dr. Strangeglove
Wurley
Strangeglove is stealing Fishies from the beach! Enlist the help of Cap'n Buck and discover Strangeglove's evil plan.
Note: First appearance of
3
3
Strangeglove From Above
7th April 2011
Dr. Strangeglove
Plinky
Strangeglove is terrorising the Fluffies in the clouds. The Super Moshis must stop him.
Note: First appearance of
4
4
Candy Catastrophe
26th May 2011
Sweet Tooth
Cherry Bomb
Find out who's behind Dastardly Delights Candy and stop the Monsters of Monstro City getting sick.
Note: First appearance of
5
5
Pop Goes The Boo Boo
29th June 2011
Robo Quacks
Holga
Baby Rox has lost her voice! Buster Bumblechops thinks that Strangeglove might be behind it. The Super Moshis must investigate and find Baby Rox's voice!
Note: First appearance of
6
6
Super Moshiversity Challenge
28th July 2011
"Headmaster"
Penny
You've been selected for a scholarship to the exclusive Super Moshiversity, but all is not as it seems at super school.
Note: First appearance of
7
7
20,000 Leagues Under The Fur
1st September 2011
Glumps
Tiamo
Purple Smoke is coming from the Volcano? Elder Furi has gone missing? It's time for the Super Moshis to investigate!
Note: First appearance of
8
8
Spooktacular Spectacular
13th October 2011
Dr. Strangeglove
Gabby
You are cordially invited to Simon Growl's spooktacular Halloween party. A chance to let your hair down and relax ...or is it?
Note: First appearance of
9
9
Snow Way Out!
5th November 2011
Dr. Strangeglove
Tomba
What is C.L.O.N.C. up to on Mt. Silimanjaro? Could they really be building a Super Weapon on the majestic snow capped peaks? Go Super Moshis!
Note: First appearance of
10
10
Super Weapon Showdown
8th December 2011
C.L.O.N.C.
C.L.O.N.C.'s Super Weapon is primed for launch! Will this be the end of Monstro City?!
Note: First appearance of
Season Two (2012)
No.
Overall
Title
Original release date
Villain
Reward
1
11
A Close Encounter of the Zoshi Kind
13th March 2012
None
CocoLoco
Investigate the mysterious UFO crash site on Music Island. Call on Simon Growl and Buster Bumblechops for help in a new adventure!
Note: First appearance of
2
12
Sandy Drain Shenanigans
16th April 2012
Frau Now BrownKau
Rofl
Something's not quite right at the famous Sandy Drain Hotel - time for the Super Moshis to investigate!
Note: First appearance of
3
13
Bungle In The Jungle
17th May 2012
None
Woolly
The Gombala Gombala Jungle is alive with Hoodoo Hijinks! Could they hold the key to helping the Zoshlings get back home?
Note: First appearance of
4
14
Big Top BallyHoo
14th June 2012
Sweet Tooth/Clumps
Pocito
There are some strange goings on in the Big Top Ballyhoo. Roll up, roll up - Test your strength and save the day, Super Moshi!
Note: First appearance of
5
15
The Curse Of The Paw Wavin' Kitten
12th July 2012
Ghost Pirates
Tingaling
Shiver me timbers! There be ghostly goings aboard the Gooey Galleon. So look out for pirates and say 'Aaaarrrrr!'
Note: First appearance of
6
16
Welcome to Jollywood
9th August 2012
Big Chief Tiny Head
Bobbi SingSong
Can you move like Bobbi SingSong? Its a jolly good time to find out! There's one more Zoshling to find and all signs are pointing East...
Note: First appearance of
7
17
Masters Of The Swooniverse
11th September 2012
Dr. Strangeglove
Scarlet O'Haira
Prepare for blast off as you boldly go where no Moshi has gone before. And remember, no one can hear you twirling your moustache!
Note: First appearance of
8
18
Kick Some Asteroid
11th October 2012
None
Fizzy
Wanna have a blast blowing things up on a crazy asteroid? Well c'mon and help the Super Moshis get busy finding Fizzy!
Note: First appearance of
9
19
Missing On A Star
9th November 2012
Sassafras
Judder
On a C.L.O.N.C Space Base far, far away... The Zoshlings have been captured! Save them in this interstellar installment of Super Moshi Missions!
Note: First appearance of
10
20
Cosmic Countdown
6th December 2012
C.L.O.N.C.
Zoshlings
It's the final countdown and only the Super Moshis can defeat C.L.O.N.C and save the Moshi world from total meltdown! 10, 9, 8, 7...
Note: First appearance of
Season Three (2013)
No.
Overall
Title
Original release date
Villain
Reward
1
21
The Unusual Suspects
8th February 2013
None
YoYo
Poppet has received a mysterious letter from an unknown Monster, she has asked you to find out who it is!
Note: note
2
22
Choc-O-Dile Blues
28th March 2013
Biggie Diddles III
Marcel
The chocolate on Main Street has stop flowing and the eggs are gone! It's up to the Super Moshis to investigate.
Note: note
3
23
The Googenheist
19th April 2013
None
Raffles
The Googenheim has disappeared and the Super Moshis need to help solve the mystery!
Note: note
4
24
The Secret Treasure of Potion Ocean
10th May 2013
Sassafras
Uncle Scallops
Meet the pirates of Potion Ocean! Hunt for the pieces of Cap'n Codswallop's missing map and discover the hidden pirate booty of Potion Ocean before the sinister space pirate Commander Sassafras.
Note: note
5
25
Gustbusters
9th July 2013
Mighty Gustavo; Stinkerton; Whiffy Wobbler
Sprinkles
Description
Note: note
6
26
Moptop Mischief
2nd September 2013
Sweet Tooth
Zack Binspin
Description
Note: note
Gallery
Mission logos
Volcano preview images
Community content is available under
CC-BY-SA
unless otherwise noted.