Stacey Grace the Schoolgirl is a purple monster with red eyes and dark purple paws that sits on the bridge of The Port, between two Rox Trees, observing the passers-by. When clicked, she waves and giggles.
Biography
Character Encyclopedia
Main article: Character Encyclopedia
Main
Sweet little schoolgirl Stacey goes to the goopendously renowned Miss Jingle's School for Girls. This clumsy little lass struggles to tie her shoelaces and often stumbles and falls over as a result! Luckily, her mum is very understanding, and lets her go to school bare feet instead!
Girly greetings
Cute as a monstrously purple button, girly Stacey Grace enjoys waving and smiling her two-toothed grin at any Moshi who passes by. She also spends a lot of time hiding her feet so that no-one can stamp on her little, shoeless plum-coloured toes as they walk by!
Waiting game
Stacey Grace can often be found sitting on the bridge at The Port, waiting patiently for her friends from school. Sometimes she's waiting a long time...
Data file

Hangout: The Port

Catchphrase: Oops!

Likes: I-Spy, playing on the bridge

Often Spotted: Stepping in yucky things with her bare feet!

Notes

[Ears] Listening out for her gossipy school gal pals

Sociable Stacey loves waving her paw at other critters.
Moshipedia
Main article: Moshipedia
Stacey Grace attends Miss Jingle's School for Girls and waits for her classmates on the bridge at The Port. She has a small problem tying her shoelaces, and sometimes trips and falls. Thankfully her mother lets her go to school in bare feet.
Appearance & Design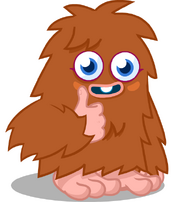 Stacey Grace is a moonlight purple monster with bolt upright rectangular ears and crimson red eyes. When observed at The Port, she is never seen without a grin and a generally happy countenance, which goes to show for her happy-go-lucky character. Possessing many similar physical traits to that of Furis, she has bright pink lips and rounded bucked teeth, and the similar fur-covered body such species, too, characteristically holds. She even has bare feet as a result of their sizeable volumes, another trait of said species; in fact, the only real distinguishable visuals that are different by comparison to Furis are her aforementioned ears, which are this way as a result of her listening to her schoolmates.
Trivia
Her Character Encyclopedia bio is one of few to contain in-game screenshots as opposed to official artwork.
Gallery
In-game
Community content is available under
CC-BY-SA
unless otherwise noted.