| | | |
| --- | --- | --- |
| " | Write your way to the top! | " |
Ruby Scribblez is an editor for Shrillboard Magazine, The Daily Growl and is an expert on all the Moshi Monsters Merchandise. She is known to be a trend-master and an editor on The Daily Growl, mostly blogging about real-world Moshi Monsters Item News and Reviews.
The Monstrous Biographies are all written by her in which she unraffles the past of characters, which aside writing seems to be a great skill of hers. As of now, she has written about Captain Buck E. Barnacle, Dr. Strangeglove and Zack Binspin.
She is a rather humorous individual but also a "straight man" in conversations.
Biography
[citation needed]
A roving reporter for Shrillboard Magazine, top-rated talk show host, author of various Monstrous Biographies and friend to the stars, Ruby Scribblez started out writing boring labels ay Yukea. Friendly but pushy, she went on to make coffee for Roary Scrawl. She's even rumoured to have dated Hairosniff's singer, Screech McPiehole.
Character Encyclopedia
Main article: Character Encyclopedia
Main
Friendly but pushy Ruby Scribblez began her career writing dull labels for Yukea, the furniture store. Luckily, she soon climbed the wobbly work ladder to become a roving reporter for Shrillboard Magazine, the author for many monsterific celebrity biographies, and a top-rated talk show host.
Monstrous ambition
Miss Scribblez writes a clawsome blog, Ruby's Review for The Daily Growl, in which she reviews all the latest games and toys. She also created the fanzine for the band Hairosniff and is rumoured to have dated the group's lead singer, Screech McPiehole.
Binspin's got her head spinning!
Ruby simply adores pop solo gooperstar Zack Binspin. She will find any excuse to interview him and stare longingly into his starry eyes!
Data file
Hangout: Wherever Zack Binspin is (or as nearby as possible)
Catchphrase: "Write your way to the top!"
Likes: Shopping for new trends, bargain hunting
Often Spotted: Scribbling away
Notes

Scruffy, trendy tresses

Star-struck eyes

Big mouth for all that gossiping and interviewing.
Moshipedia
Main article: Moshipedia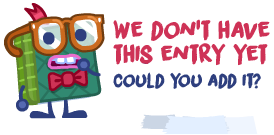 Relationships
It says in Moshi Monsters Magazine (Issue 26) that she might have dated Screech McPiehole, Hairosniff's lead singer.
She is colleagues with Roary Scrawl (interviewers and bloggers) and Simon Growl (showbiz). She has made paparazzi-like pictures of Tyra Fangs in a bathing suit, while Tyra was on vacation with Roary Scrawl. Their relationship is a bit unclear.
She was shown to hang with Buster Bumblechops when Roary tried to catch up to him about the Food Factory.
It is stated that she is friends with Poppet in the I Heart Poppet book.
Gallery
Daily Growl
Figures
Other
Community content is available under
CC-BY-SA
unless otherwise noted.