Roary Scrawl is the editor in chief of The Daily Growl and host of Moshi Monsters' YouTube Channel - as the main face of all the "ooze that's fit to print", he is a major character of the franchise.
Upon creating an account on Moshi Monsters, he sends you a welcome gift to welcome you to Monstro City. In Moshi Monsters he can be seen working inside The Daily Growl offices on Main Street, pops up as an error notifier on the Pinboard, and functions as a judge in the Underground Disco along with Simon Growl and Tyra Fangs. He was a suspect for sending Poppet a love letter in The Unusual Suspects.
In Moshi Monster's Safer Internet Day 2014, Roary is shown to be rather clumsy and messy, two contrasting qualities for someone who edits the acclaimed local newspaper.
Roary also has a love for TV, but quite an excessive one; in a Daily Growl post, he is shown to have square eyes.
His first post on The Daily Growl was on May 21, 2008, whilst the game was still in beta testing (it would be until April 16 of that year for it to open to all[1]), though such is not noted therein.
Biography
Character Encyclopedia
Main
Roving reporter Roary Scrawl keeps his many eyes out for the next big story to print in The Daily Growl, Monstro City's goopendous newspaper. Editor-in-chief Roary loves tap-tapping away on his typewriter as fast as monsterly possible, keeping the City up-to-date with his superinformative ooze bulletins.
Easy on the eyes
Romantic Roary's favourite holiday is Valentine's Day, and he only has eyes for his gorgeous girlfriend Tyra Fangs. They enjoy building sandcastles at Bleurgh Beach and going on romantic candlelit dinner dates. But if Eye Pie is on the menu, the night will be ruined because squeamish Scrawl will totally freak out!
Eye-spy eyes
Because Roary has eyes in the back of his head (and the front and sides for that matter!), he is a monstrous multi-tasker. He can look for his misplaced eyeballs, even when he's busy working on a story!
Data file
Hangout: The Daily Growl office
Likes: Eavesdropping, collecting ABC (already-been-chewed) gumballs
Often spotted: Monster-watching across the City
Notes

Editor-in-chief Roary keeps an eye on everything!

Roary is a dapper chap. He always wears a smart yellow bow tie.
Moshipedia
Roary Scrawl tirelessly types away at The Daily Growl office, determined to keep Monstro City informed with all the ooze that's fit to print. With al those eyes, it's only natural that he's the editor-in-chief. He spends his free time searching for his misplaced eyeballs and snoop...err, monster watching.
MoshiMovie.com
Fast-talking editor of the Daily Growl newspaper, Roary Scrawl is now directing movies with the help of his camcorder Moshling sidekick, Blinki. Obsessed with keeping Monstro City's citizens up to speed with all the ooze that's fit to print, Roary has eyes everywhere - literally.
Unfortunately, he's afraid of flying, so travelling to far-flung Moshi destinations can be a problem.
Fact file
Likes: Gummy Gum, breaks from work and Tyra Fangs!
Hero: Anybody who can beat him at a staring contest, and/or Grosseph Gluelitzer!
Dislikes: Lint, worries about losing his eyeballs under the sofa.
Best Friend: Roary chats to Snozzle Wobbleson about all of the latest town buzz!

Ever since he was a young monster, Roary Scrawl liked to write, penning luuurve poems and limericks about Monstro City for his parents. He was a natural-born sleuth, and first got noticed when he uncovered the truth about Chocolate Covered Broccoli. It's actually good for you!

The Daily Growl!
It was always a dream of Roary's to be Editor in Chief of a newspaper, and one day he finally got his dream job!
Sticky Stuff!
Roary usually likes to eavesdrop over at the Marketplace and collect ABC (Already Been Chewed) gum from shop floors for his giant ABC gumball collection!
Roary & Tyra!
They've been together for three years, despite Roary's smelly feet and Tyra's shopping habit!

Picture of Daily Growl contributor trophy: Roary's Daily Growl Trophy is made of solid gold over at the Hand/Eye Coordination Factory!
(Moshi Monsters Magazine Issue 8, page 19)
Relationships
Design
Roary is a purple Monster whose most notable feature are his numerous eyes that go all around his head (even said to be all over his body). All eyes have a different colour and are not consistent in this, aside from his main middle and biggest eye always being shown to be green. The inconsistency can be explained by Roary's quirk to be able to remove his eyeballs since he frequently loses them and is usually busy trying to find them back. In the removed state, he seems to be able to still see with them. This ability appears to cause no pain to him either, as he can physically hold them with no problem.
As for clothing, he wears a white blouse, a yellow bow tie, a pair of blue shoes of similar design as that of Poppet and Sweet Tooth and navy-blue jeans.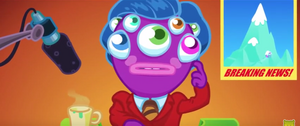 For the occasion of news reporting, he has appeared with a blue wig and a red blazer. He presented himself as such in the trailer of Cosmic Countdown and the Moshi Monsters Magazine issue 30 announcing Gustbusters. He held a survey on the Daily Growl[2] asking if he should keep the look, one of the possible answers he provided being "is that a Moshling on your head?"
| | | |
| --- | --- | --- |
| " | Everybody's been talking about my new look. You know, the one where I look SUPER handsome with my blue hair and blazer? Anyway, I was wondering what you all thought of it. Maybe I should rock the blue 'do more often? | " |
The survey's results shifted to his original design meaning he did not stick with the look. Later on, with the release of The Movie, Newsreader filled in the news report job (as Roary had his own part in the movie) and wears the exact same attire with the same colour scheme as News Reporter Roary used to.
Appearances
Trivia
Roary can speak a little bit of French (enough to get him in trouble).
Roary once babysit Bubba The Bouncer's pet, Fifi. Roary decided to bring Lady Meowford over too, which ended up in utter chaos.
Roary is a passionate fan of Zack Binspin, so much so to the extent that he even made his own Valentine for him. However, Simon Growl inadvertently discovered it, which dropped out of Roary's pocket.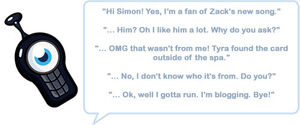 Roary's favourite colour is blue, the colour of Tyra Fangs' eyes, as stated in Moshi Monsters Magazine: Issue 15.
He states that, in Moshi Monsters Magazine: Issue 17, if he could get an autograph from anyone in his choosing, it would be Missy Kix, what with her Music Rox! album track being number one of his top three.
Roary enjoys having so many eyes since, as said in Moshi Monsters Magazine: Issue 24, he appreciates anything with more than two eyes, hence his choice of Squiff for the Glump he would choose if he were one.

In this issue, he also proclaims that Twistmas is his favourite time of year.

His former catchphrase was "Stay scary and keep your eyes to hand!", but has since been condensed to just "keep your eyes at hand ...".
Gallery
Items
Merchandise
Figures
Cards
The Daily Growl
Animation
References