Raarghly, also known as Help Monster, is the owner of Games Starcade on Sludge Street, where arcade games for your room are sold. The games he sells are Bug's Big Bounce, Octo's Eco Adventure, Sea Monster Munch and Weevil Kneevil's Downhill Dash.
Raarghly gives out Quests, features in the Series 6 Figures and additionally made an appearance in the first part of Gustbusters.
Biography
Character Encyclopedia
Main article: Character Encyclopedia
Main
Beaming down from a mysterious world somewhere deep in outer Moshi space, computer expert Raarghly has quickly become Monstro City's highest-scoring gaming geek. With the ability - and the hands - to play six games all at once, this two-toothed monster is Monstro City's ultimate unbeatable video-game champion!
Goggle eyes
With his big beady eyes, Raarghly does a great job of watching over the Games Starcade - while still playing plenty of video games himself, of course!
Out-of-this-world cuisine
Raarghly loves all sorts of space food and is particularly partial to monstrously tasty dehydrated ice cream. If you get your paws on any, make sure you feed it to him fast, and he'll soon be your "BAFF" (Best Alien Friend Forever)!
Data file
Hangout: Games Starcade on Sludge Street
Catchphrase: "Game over!"
Likes: Err, gaming! What else is there?
Notes

Precise arm action

State-of-the-art spacecraft seat

Finger always on the button
Moshipedia
Main article: Moshipedia
Raarghly is a monster from another world. Which world? Nobody knows. Able to play six video games at once all while watching over the Games Starcade, this monster can't be beaten! He'll be your best friend if you feed him any kind of space food. Dehydrated ice cream is his favourite.
Design
Described as an alien, Raarghly is a red octopus-like monster with eyes on top op stalks and thick whisker-like attachments to his cheeks about the size of his arms. His lower body is attached to a floating green spaceship featuring blue lights, a joystick.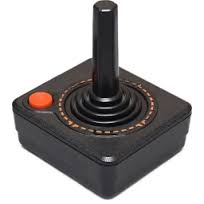 The joystick resembles the controller of the Atari 2600 which is considered THE console when it comes to the classics of gaming. The only difference is that Raarghly has it attached to a coil cable. Coil cables were used back in the late 80s to make the multiple wires one had attached to their tech appear tidier. It thus has a great tech geek aesthetic to it.
The red button on Raarghly's joystick is the power switch to his UFO and requires to be held down for it to function. (Not common courtesy for Atari games) When Raarghly is not active, such as being asleep, the suit does not float, rotate or has its lights working.
Gallery
Merch
Community content is available under
CC-BY-SA
unless otherwise noted.