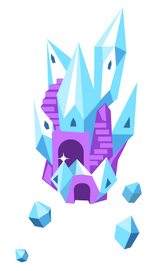 The 
Puzzle Palace 
is a location in
Moshi Monsters
, where players can play puzzle quizzes to earn
rox
, the currency of
Monstro City
.
They can play the Daily Challenge or select a puzzle from the Hall of Puzzles.
Players can also play separate types of quizzes, including general knowledge (Tricky Trivia) and Moshi Monster knowledge (Master of Moshi).
Originally, within the grounds of the Palace lied a large jigsaw puzzle. It was rumoured to consist of many Baffled Bits who scattered and went missing, thus removing the jigsaw puzzle from existance. 
Beneath the Puzzle Palace lies hedge mazes. Inside those are a huge Rox hoard of which Macho Minotaurs used to guard. As Troy's biography is quite vague, it's unknown why Macho Minotaurs no longer guard the mazes and may imply that the Rox hoard is no longer there.
Puzzle List
Main article: List of Puzzle Palace Games
Bubble Trouble
Color Chaos
Eyes Spy
Word Cross
Tricky Triva
Jigsaw Jam
Time Tangle
Shape Shake
Line Dance
Flag Frenzy
Secret Word
Math Mash
Number Jumble
Master Of Moshi
Spelling Spree
Moshi Multiply
Scare Squares
Word Mash
Alphabet Soup
Next Number
Word Warp
Monster Maze
Chock-A-Block
Sneaky Snakes
The Red Square
Letter Count
Shuffle Kerfuffle
Vowel Howl
Side Winder
Block Party
Super Scramble
Manic Match
Nifty Shifty
Dizzy Blocks
Multiplayer
In 2012, the Multiplayer feature was added. In multiplayer, two players will be picked at random and will challenge.
The person who scores the most points wins 10 rox, if both the players score the same, they both win 5 rox but if a player loses, they will win 1 rox.
Gallery