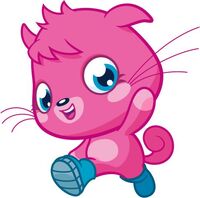 Poppets are the second most popular species of monster. The default Poppet is pink with blue eyes and blue boots.
Design
Poppets seem to have a liking for footwear (especially boots!), Juno being the only one shown without. With the introduction of The Poppeteers, Poppet anatomy is shown to vary.
Their heads feature either horns or ears.
They can grow hair of a different colour and structure on top of their head and tail.
They can be tail-less and whiskers-less.
Their head and eye shapes vary.
Personality
Poppets are perfect for a lively, kind and compassionate owner. Poppets are also famous for their everlasting style- how glamorous! They are generally sweet and optimistic, and tidy eaters.
Most Poppets are generally shy but love dancing when no one can see them. They also enjoy dressing up in cute costumes and parties.
Notable Members
Poppet
Pinky
"Pinky" was a name given to Poppet in the early installations of comic stories to maintain neutrality to the species.
Super Poppet
Geeky Poppet
Explorer Poppet
Beach Poppet
Avril LaScream
Cuggles
Appeared exclusively in The Lost Treasure of Umba Umba! as a member of the search team. She is fluent in millions of Moshi languages!
Pussycat Poppets
The Poppeteers
Juno
Zaffi
Serena
Lucki
Hazelbunny
Hazelbunny is a monster owner in Moshi Monsters and was 2008's Top Monster, a prize that was granted by Tyra Fangs. Displayed in her room, is a unique sign saying MC NTM Winner 2008. She has over 250,000 visits and is an A rated MonSTAR.
Rainbow
Rainbow is the Monster owned by Cutiegirl15033. Rainbow is a dark brown Poppet with sunglasses.
Cutegirl15033 won a contest on The Daily Growl where the prize was to be featured on a Series 2 Mash Up card.
Quotes
Playing is very good for Poppets, we thrive on it.
I know my paws are tiny but I can hug big!
Hee hee! Poppets were made for fun and fun was made for Poppets.
Trivia
The name Poppet comes from the term "poppet" used to describe their loved ones.
Poppet is one of the two monsters to have a Mosh N Chat plush, along with Katsuma.
They speak in "Poppetonian" language.
Poppets' favourite food is generally Mice Krispies.
According to a Moshi Magazine, Poppets are less than 2 inches tall.
Poppet has a song called I Heart Moshlings.
Poppet has a mission called "The Unusual Suspects".
Gallery