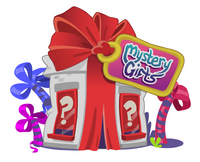 Not to be confused with Mystery Gifts.
Mystery Gifts is a shop in Moshi Monsters, located on Gift Island. It was opened on August 20th 2013, the same day as the Mystery Gifts feature was announced.
Players can send as many Mystery Gifts as they want each day, which can be sent to friends from the gift button in the room or from the store.
There are currently three types, Food Box, Seed Box, and Rox Box. All the gifts are free to send.
Gallery
Shop
Gifts