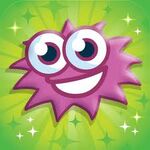 The Moshlings! app is the second app (the first being Moshi Mouthoff) created by Mind Candy and Penguin. Unlike most other Moshi Monsters apps, this one costs money.
The app includes features to decorate Moshlings with stickers, features to read the Moshling's biography, their seed combination and more (now irrevelant due to the game directly telling the player the seed combination).
Moshlings! is extremely outdated as it has not been updated with new Moshlings since its first release covering around sixty Moshlings. The latest update was to promote Talking Poppet by placing a sign post auto directing you to the App Store.
Gallery