The
Moshipedia
is an encyclopedic A to Z book, released on November 7th, 2013 along with
Hot Wings
in-game. Written by Jonathan Green, Steve Cleverly and Megan Bell.
It comes with an exclusive Hot Wings figure that cannot be bought with a standard series, making the figure exclusive to the book, and is also why Hot Wings was released in-game the same day the book hit store shelves. 
The book's title is a pun on the word, encyclopedia, replacing the 'encyclo' with 'Moshi'. The book is in alphabetical order going from A to Z in the matter of 192 pages. The book is published by Puffin and Amazon UK lists the author as "Jonathan Green".
Description
The Moshi Monsters Moshipedia is the must-have book for all Moshi Monsters fans.
An A-Z of everything Moshi, from Monsters and Moshlings to places, props, phrases and much much more. This perfect Christmas gift for any Moshi fan also comes with an exclusive, never-before-seen Moshling mini figure!
Puffin published a variety of Moshi Monsters Books for fans to enjoy including 101 Moshi Things to Make and Do, C.L.O.N.C. Strikes Back and many more!
Intro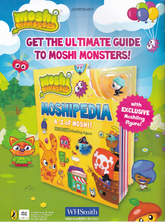 Can you tell the difference between a Mystery Moggy and a Pretty Kitty? Do you know where you can find Acrobatic SeaStars or Unlucky Larrikins in the wild? And what about the Games Starcade or EN-GEN-where are they?
Well, have no fear, you now have all this information at your fingertips, along with loads more. This Moshipedia is an A-Z guide to many of the delights found in Monstro City and beyond!
So what are you waiting for? Turn the page and delve in. From Aarrr! Pirate Flag to Zoshlings, it's time to learn your A to Z!
Content
Main article: Moshipedia/Content
Trivia
Icky description got cut off and continued on the next page.
Hubbs is shown with a supposed conceptual design.
The Mouth Chair was depicted next to the description of the Lickable Lounger, thus mixed up with it. As such, the Mouth Chair does not feature in the Moshipedia with its own description.
Community content is available under
CC-BY-SA
unless otherwise noted.