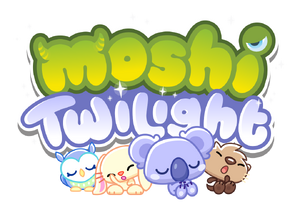 Moshi Sleep, also simply referred to as Moshi and previously known as Moshi Twilight Sleep Stories, is an iOS and Android application which allows users to listen to relaxing stories and sounds to help them fall asleep. It is also an app used for meditation or to help people relax from stress. The app is free to download however requires a paid membership to listen to all stories and sounds. The app is a collaboration with Calm, an app in the same genre that Moshi creator Micheal Acton Smith works on.
The app introduces the Sleepies Moshlings, with Sleepypaws being the main mascot. These Moshlings were later added to the Moshi Monsters Egg Hunt app, with the addition of Super Moshling Little Bo Nap.
The stories are written by Steve Cleverly and Sanj Sen and are told by Marc Silk and Phillipa Alexander. A new story/sound is added every week. Most stories are broken up with a song, usually soothing remixes of existing songs. Many of these songs are in the key of C major and use the same or similar chord progression from the I Heart Moshlings chorus (I vi IV V). The instrumentals of each story are available to listen to under the 'Sleep Music' category.
In the wake of its creation, when moshimonsters.com and other websites still excisted, the website to this App was makebedtimeadream.com - later on, all websites (including the latter) associated with Moshi Monsters, have become redirects to moshisleep.com.
Description
Moshi Twilight Sleep Stories are perfect for settling little monsters at bedtime.

Get the kids comfy, turn down the lights, start a Sleep Story and leave them to drift calmly off to sleep.

Made for kids but loved by parents, Sleep Stories are a revolutionary new form of bedtime story. Created specifically to calm the mind, each charmingly surreal story follows the natural pattern of sleep, slowing in rhythm as it progresses and introducing dreamy melodies, comforting bedtime themes and soothing soundscapes to help kids drift into their natural sleep patterns. Download now for free and try one for yourself.

Brought to you by the multi-award-winning, chart-topping creators of much-loved global phenomenon Moshi Monsters, our constantly-expanding library of melodic stories and soundscapes continues to grow with new content every week, ensuring kids always have something magical to listen to at bedtime.

Our partner Calm.com created Sleep Stories to soothe weary minds and help people drift off to sleep. The Calm app also contains meditations, music, sound effects and relaxing videos.

Moshi Twilight Sleep Stories is free for non-subscribers. Non-subscribers have limited access to Sleep Stories and soundscapes.
Content
Buster's Daily Diary
Hear from world famous Moshling Collector, Buster Bumblechops, every day, as he searches for Moshlings. A perfect pre-story treat!
Buster's Daily Diary features short stories from Buster, focusing on his encounter with a Moshling. Each story continues from the last. On occasions, the story will be focused on a Monster rather than a Moshing, or not have a focused character at all. This feature is free for the first seven days.
The stories are released in 28 day seasons, with one unlocking each day.
List of diary entries
Season One - Finding Moshlings
Season Two - Seeking Super Moshlings
Plush Toys
In December, a collaboration between Posh Paws and Moshi Twilight was announced. The plush toy line will feature all four Sleepies Moshlings in two sizes. More info was revealed at the 2019 London Toy Fair. ([1])