The Moshi Monsters Character Encylopedia, written by Steve Cleverley, Lauren Holowaty and Claire Sipi, is a book containing biographies on many characters of Moshi Monsters, spending one page on each of them. The book comes with an exclusive bauble red Colonel Catcher figure.
The book has has two releases, another with ISBN 978-1409365907
Description
Take a trip to Monstro City and meet every single one of your favourite characters
You've played Moshi Monsters, now learn about their amazing and colourful world from beginning to end with Moshi Monsters Character Encyclopedia. Every single one of the Moshi Monsters is covered, each with their own page stuffed full of fun Moshi facts, stats and stories, plus every copy comes with your very own free and exclusive Moshling!
Learn fun new facts about all of your favourite Monstro City residents. From the monsters you love, like Katsuma, Luvli, Diavlo and Poppet, to places like Babs' Boutique and the amazing Moshlings - it's all in Moshi Monsters Character Encyclopedia.
Full of colour and full of fun - just like the game - Moshi Monsters Character Encyclopedia is a must-have for any Moshi Monster fan.
Blurp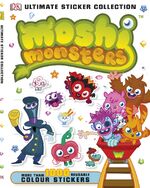 Do you know your Snuffy Hookums from your Snozzle Wobbleson, or your Fifi from your Furi?
Meet more than 200 of the wackiest, weirdest, and cutest monsters you could ever imagine.
From Moshlings, Zoshlings, and Roarkers to shopkeepers, ghost pirates, and Glumps, learn about each character and the gloopendous world they live in, along with monsterific Moshi Monsters facts.
Also check out the fangtastic Moshi Monsters™ Ultimate Sticker Collection!
Content
Gallery
Community content is available under
CC-BY-SA
unless otherwise noted.