Moshi Monsters is an online game and lucrative franchise whose initial aim was that one could adopt, care and nurture for their very own monster in a virtual world of Moshi Monsters, made by Mind Candy. Following success led them to release two music albums of which earned Gold on the UK charts.
Monster owners can select and customise their monster, play with them, take them shopping and decorate their room. Players can add additional extra rooms and can share with friends. They have a Friends Tree and a Pinboard where they can exchange messages, though the content is regulated.
Players can become Members for a monthly fee which expands their in-game abilities and accessibility, opening areas such as The Port.
The world contains many minigames and puzzles, which can be played for fun and to earn Rox, the in-game currency used to buy seeds, clothes, furniture and food for your monster. One prominent type of game is the Super Moshi Missions where almost all the missions are member exclusive. 
One of the more popular attractions of Moshi Monsters is collecting Moshlings (pet creatures), which can be attracted by planting suitable seeds in your Moshling Garden, by playing missions, through hatching Moshling eggs, or by purchasing special Moshi Monsters merchandise that comes with unique codes. Some Moshlings are only available to Members because they require special seeds, and others with codes and certain events, etc.
Some of the brand's fonts include a condensed Comic Sans MS (predominantly on menus) and Karla (on Daily Growl text), as well as Fredoka One (on Daily Growl titles), Arial Rounded (used on things such as the Friends Tree) and all types of Burbank fonts.
History
Beta (14/09/07 - 16/04/08)
Early years
Decline
Reboot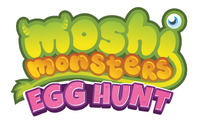 The release of the App Egg Hunt is considered the announced reboot of the franchise. Though a reboot often means re-doing and changing, Egg Hunt takes place within the current timeline and universe of Moshi Monsters and requires their demographic to already know about the characters and world, which is odd as their aimed demographic is one new to the franchise. Many consider Egg Hunt to be a soft reboot rather than the standard reboot. 
The format of gameplay is similar to Moshi Monsters, but now with a (self-insert) Moshling character instead of a Monster character to care. As Moshi Monsters itself remains live but not updating, Moshlings who are still awaiting release in the web browser game are being released on the App.
On July 19th, 2017, a "Twitter Party" was held, hosted by the brand itself and several "mom blogs" who promote the latest kids content. Announced 3 days prior with great urge the coming days, no information of what this party would contain was made clear. The time and date it was held was out of range for most children in the UK, thus impossible for the aimed demographic to attend aside the fact they also would be too young for social media. The party proved nothing more than an advertisement in which they promoted the App - claiming it to have topped the charts - and promoted Design a Moshling Contest 2017 through the mom blogs who were later revealed to have been paid to do so. The success of this marketing strategy is questionable as it did not reach beyond the scope of the paid mom blogs promoting it.
Monsters
There are six monsters to choose from: Furi, Poppet, Luvli, Katsuma, Diavlo, and Zommer. When Moshi Monsters was first released, they only had Furi, Poppet, Diavlo, and Zommer. Later on, they added Katsuma and Luvli. In one of the magazines, it says that Katsuma is the most popular, followed by Poppet, Furi, Diavlo, Luvli and finally Zommer.
Deleted Accounts
Deleted accounts, also referred to as terminated accounts, have been more common in Moshi Monsters in recent years. Accounts were usually deleted due to users violating the Rules or Terms or because a player has requested Mind Candy to delete their account. However, the majority of recently deleted accounts have been automatically deleted due to inactivity after a certain time period.
The exact time period is currently unknown and may vary, but it is estimated to be at least four years of inactivity. If a Moshi Monsters account was last active sometime in mid-late 2015, the account will not be deleted as of early 2019. It is unknown when Mind Candy started deleting inactive accounts but the earliest published cases of these deleted accounts were in 2018.
The deleted accounts cannot be recovered according to Moshi Monsters's emails. The Termination section in the Moshi Monsters Terms and Conditions says that Mind Candy is entitled to delete Moshi Monsters accounts without the user's consent.
Characteristics of a deleted account:
Deleted account's monster will not show up in a location where accounts' monsters are usually shown walking.
A deleted account that is displayed on the Friends Tree, either on the Friends List or Friends Requests, will falsely display their age as 49 (as of 2019).
Searching for the username of a deleted account in the Friends Tree will say 'Oops! No friends found'.
A loading screen will show up when visiting a deleted account's room, but the loading bar will remain stationary meaning that it will be impossible to visit the deleted account's room.
The same loading result will occur when attempting to visit a deleted account by using a Visit Me link (http://moshime.com/[username]) or clicking on their profile in the Friends Tree, Pinboard or Daily Growl comment.
Viewing a deleted account's comment in a Daily Growl post will show the comment but will not show an image or animation of the user's monster.
Logging in with the correct username and password of a deleted account will lead to the website saying 'Sign in failed. Please try again.'; In other cases, the website may also say 'Use the link in your registration email to activate your account.'.
Making a new account with a username that once belonged to a deleted account will be impossible as the website will say 'please try a different username'.
Glitches and bugs
"Couldn't set up playarea! Error #2124": appears as a notice when loading one's room; it will load the room regularly, albeit claiming to be unable to load someone's room.
Seeing your zoo in an attempt to see someone else's: an error that arose and sparked controversy, where someone cannot view someone else's zoo - instead they see their own. The glitch additionally occurs with the Friends Tree.
When closing the inventory chest after placing many items are placed in the house, there may be an error in saving the changes. This causes the chest to open again and forces the player to reload the page.
Opening a Mystery Gift can sometimes show an item quicker than usual and there are no light borders around. The player cannot send a gift back from this gift and this glitch prevents the player from exiting the Gift Room which forces them to reload the page. The item from the glitched gift is received.
When opening a Mystery Gift, there can be a glitch where the rotating items never stop rotating which forces the page to be reloaded.
Visiting other monsters' homes may sometimes falsely show both the Health and Happiness bars to be completely full or completely empty.
The background layout of the Food Factory may be missing. This glitch is likely to occur when the player continuously and quickly enters and leaves the Food Factory room.
Planting a seed in the Moshling Garden may result with the shovel staying stationary above where the seed has been planted. The player cannot leave the garden when this glitch occurs and is forced to reload the website.
After deleting a page of the player's friends tree, the game automatically sets the profile and name to that of the next friend in line, resulting in duplicates of the same friend presented in the Friends Tree.
Apps
Video Games
Moshling Zoo (Nintendo DS) - 11th November 2011 (UK) - November 6th (America)
Moshlings Theme Park (Nintendo DS/3DS) - 26th October 2012 (UK and America)
Katsuma Unleashed (Nintendo DS/3DS) - 11th October 2013 (UK) - November 5th, 2013 (America)
Books
Albums
Music Rox! - 2 April 2012.
The Movie Soundtrack - 9 December 2013
Awards
Although not explicitly given to Mind Candy for Moshi Monsters, their publishing partner, Penguin, received 'Best Licensed Written, Listening or Learning Range' for their Moshi Monsters books range[10]
Toy partner Vivid won 'Best Licensed Toy or Games' for the Moshi Monsters Toy Range[10]
The 'Best Schoolers/Tween or Teen Licensed Property' was won by Moshi Monsters[10]
DVDS
Moshi Monsters: The Movie - 3rd April 2014 (AU) 14th April 2014 (UK)
Gallery
References
Community content is available under
CC-BY-SA
unless otherwise noted.