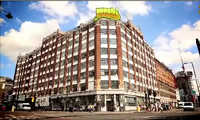 The
Mind Candy HQ
(also known as the
Moshi Monsters HQ
) is the headquarters of
Moshi Monsters
where the
Mind Candy and Moshi Monsters staff work
works.
The address of their current headquarters is Bonhill Building, 15 Bonhill Street, EC2A 4DN, London, United Kingdom. Previously, Mind Candy owned two floors of the office, but one of these was sold to CrowdMix, a start-up music company. Their former HQ was located in the Tea Building at 56, Shoreditch High Street, London, England, very close to their present headquarters.
Competitions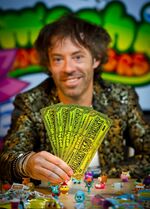 Series 4 Golden Tickets
On 24th September 2012, Mr. Moshi hid five golden tickets hidden inside random packages of Series 4 Blind Bags. The children who found the five golden tickets won a trip to Moshi Monsters HQ, where they got to see a behind the scenes look at Moshi Monsters. Each winner got a goody bag containing Moshi merchandise and one lucky winner won the solid gold I.G.G.Y. figure and their weight in Moshi merchandise.
Winners
12th October 2012: Chloe Nice from Witham, Essex, England - Ticket found in Tesco.
7th November 2012: Kieran Rees from Pontypool, Wales - Ticket found in Argos.
3rd December 2012: Aaron Chambers from Linton, Derbyshire, England - Ticket found in Argos.
9th December 2012: Samuel Charlton from Newport, Wales - Ticket found in The Entertainer.
10th January 2013: Cameron Smith from Worcester, England - Ticket found in a Christmas Present (unknown store).
Moshi Mag 50 Editors
On July 5th 2014, the 15 Editors contest was announced on The Daily Growl. 50 lucky readers will have the chance to become guest editors for the Moshi Monsters Magazine. They'll spend the day at Moshi HQ in London and will help create the 50th issue of the magazine. To enter, you must either create a magazine cover or write a story for the Daily Growl.
Trivia
The Moshi Monsters 5th Birthday Party was hosted there in May 2013.
Inside it, the walls are decorated with Moshi Monsters scenery and Moshi Monsters things, such as Glump Bean Bags.
There is a red slide inside the HQ.
It's possible that the 'Five Golden Tickets' are based on the famous Roald Dahl book, 'Charlie and the Chocolate Factory', as Willy Wonka sends out five Golden Tickets, and those that get the Golden Ticket are the one that goes into his magical and wonderful Chocolate Factory.
Gallery