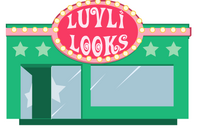 Luvli Looks is a shop in the Marketplace owned by a Luvli. It sells clothes such as feather boas, beauty spots, roses, earrings, necklaces, and much more. Luvli Looks sells clothes suiting a Luvli's girly personality. Also has some Luvli-specific clothes, Most clothes fit Luvlis, some fit Poppets (if re-sized) and some are for every monster (if re-sized). The shops itself is very feminine with its pink wallpaper, lights, and purple starred carpet.
Description
Main article: Moshipedia
Luvli Looks is a clothes shop that sells everything from feather boas and beauty spots, to earrings and necklaces. They even do a line in roses! The feminine clothes on sale mainly fit Luvlis, but some can be re-seized to fit Poppets.
Gallery