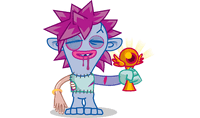 Trophies are decorative items in Moshi Monsters that are earned from leveling up. There are a total of 54 trophies, but as the level limit is at 50, the remaining four trophies are out of reach. Oddly, the Level 1 trophy is not available as well, as you start at Level 1 and not Level 0. When a player earns a trophy, thus meaning leveling up, their monster does a celebratory victory dance. Up until around Level 21, your monster will have dialogue such as "You earn them, I'll display them" or "Four trophies? That's already a set!".
Trivia
The level 4 trophy is highly similar to, and probably based on, the logo for the "Hall of Fame" on Mind Candy's previous game, Tutpup.
The level 43 Trophy depicts the monster icon that communicates your Monster's mood to you as a player.
The level 49 Trophy is a statue of The Moshi Sun.
Despite level 1, 51,52,53 and 54 trophies not being used in game, they have still been seen in promotional images and within the Moshi Magazine.
Trophies