Kerfuffle is a song featuring in The Movie and in its album, The Movie Soundtrack. The Soundtrack booklet has the final two lines of lyrics mixed up.
It is the second song credited to and sung by Bobbi SingSong, after Welcome to Jollywood.
In the movie, it follows up Bobbi SingSongs's performance of Welcome to Jollywood, in which he helps the Moshis find a Blue Jeepers. As Poppet wonders out loud how they will get to Mount Sillimanjaro on time, Bobbi SingSong suggest to "kerfuffle", which none of the cast has ever heard of.
Kerfuffling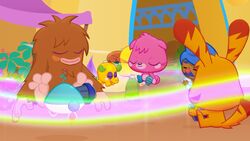 To Kerfuffle is a way of travel by means of transportation. While Bobbi SingSong acts as though it is an easy and common practice thing to do, it seems to require a type of magical skill. It is shown to be performed in a yoga sit, in a circle and chanting a meditation spell. The magic ring that forms around them and makes them float seems to be something Blue Jeepers made appear. Near the end of the movie, Blue Jeepers is at the sanctuary and makes Bobbi SingSong appear, making it seem like a magic perhaps only the two of them can perform together and not something anyone could do. The Moshis do not use for the rest of the movie while it would have gotten them out of trouble much sooner.
The transportation lets anyone in the circle travel to their wanted destiny. In Bobbi SingSong's case, he remained in Jollywood, assuming a successful travel where everyone went to their wanted destination, unknowing of the circle breaking. The breaking of the circle, which was done by Furi, caused him to end up far away from the others and ended up directly in the Scare Force One jail. Poppet, Katsuma, Mr. Snoodle and Blinki ended up in the correct area but somewhat remote and Blinki even ended up directly in the snow, causing damage to them.
Lyrics
Bobbi SingSong: If you are in a hurry why don't you just kerfuffle yourselves? It's the only way to travel. Now then, please to be getting in a huddle. Come along! It's easy! Now close your eyes, no peeking, and most important: please do not be breaking the circle.

Just close your eyes and kerfuffle
Just close your eyes and relax
Just close your eyes and kerfuffle
And you'll be making tracks

Ah-RRRRrrrrr, what a kerfuffle!

Community content is available under
CC-BY-SA
unless otherwise noted.