Hansel the Psycho Gingerboy is a rare Moshling in the Foodies set in Moshi Monsters. They are a naughty thieving gingerbread man. They are easily caught as they drop crumbs wherever they go.
Biographies
Don't be fooled by the fancy frosting, plump raisins and biscuity cuteness - Psycho Gingerboys are naughty little troublemakers. When they're not stealing sweeties and holding up bakeries, they like tripping up passers-by with their delicious but deadly candy canes. Thankfully, they're easy to catch as they can't help dropping crumbs wherever they go.
Collector's Guide

Habitat
Legend has it these half-baked hooligans were originally cooked at 180 degrees deep inside Cookie Crumb Canyon, but nobody's sure as they seem to pop up anywhere and everywhere. Yikes!
Personality
Disobedient, loutish, rascally.
Likes
Twirling licorice lassos and bathing in custard.
Dislikes
Cheesy puffs and pecking pigeons.
Character Encyclopedia
Main
They look good, smell delicious and taste yummy, but be warned: Psycho Gingerboys like Hansel are criminally insane. There's nothing appealing about these bad boys. Just take a look at all the wanted posters in the bakery and sweet shop windows. Trouble sticks to these naughty Foodies like their fancy icing!
Candy capers
It's not hard to spot Hansel's crew of loutish Gingerboy mates because they're always hanging out on street corners, wreaking monstrous mayhem. They fill their time with silly pranks - their raisin eyes are often popping out with laughter when they trip passing monsters with candy canes.
You can't catch me!
Follow the trail of scrumptious crumbs and you might find one of these tasty rascals. Unless, of course, they catch you first with a twirling liquorice lasso!
Data File
Moshling type: Foodies
Species: Psycho Gingerboy
Habitat: Cookie Crumb Canyon
Foodie friends: Coolio, Cutie Pie, Oddie
Notes:

Biscuity brains warped from being baked at 180 degrees.

Sarcastic smile.

Icing is the only sweet thing about Hansel.
Moshipedia
Don't be fooled by the fancy frosting, plump raisins and biscuity cuteness - Psycho Gingerboys are naughty little troublemakers. When they're not stealing sweeties and holding up bakeries, they like hanging around on street corners and tripping up passers-by with their delicious but deadly candy canes. Thankfully, Psycho Gingerboys are easy to catch as they can't help dropping yummy crumbs wherever they go. You have been warned!
The Official Collectable Figures Guide
These biscuity bad boys were cooked up deep inside Cookie Crumb Canyon, but since then the Psycho Gingerboys have spread everywhere. Now, these critters may look cute and yummy with their fancy frosting and plump raisins, but they're anything but!
When they're not pilfering pancakes and stealing sweeties they can be found holding-up bakeries or loitering on the street corners of Monstro City, tripping up passers-by with their candy canes. Luckily, Psycho Gingerboys are easy to catch, as they always leave a trail of gingerbread crumbs!
Moshling Zoo Official Game Guide
The Psycho Gingerboy
He's out of the pan and ready for action. Don't be fooled by the fancy frosting and biscuity cuteness - Psycho Gingerboys are naughty troublemakers. When they're not stealing sweets, they like hanging around on street corners and tripping up passers-by. Thankfully, Psycho Gingerboys are easy to catch with liquorice nets and custard baths.
Adopting Hansel
You don't need to follow a trail of breadcrumbs to find Hansel; just follow these tips! Hansel might want you to think you can't catch him, but the secret for getting him is to not run, run as fast as you can. If you get him to stay in one place, you've got him. Tempt Hansel with a custard-filled tub, and then drop the liquorice net on him for an especially delicious capture.
Moshling Rescue
Hansel


Hello, I'm Hansel, You may have seen me before? I appear on the 'Wanted' posters in most bakery and sweet shop windows. Don't let my cute exterior fool you, I'm a mayhem causing rascal. I guess all the while I'm stuck in this sticky gummy in level 36 I can't cause any trouble! #MoshlingRescue #Moshling #Rescue #Rescuer #Hansel
Merchandise
Fiction
Hansel, and other Gingerboys for that matter, have a craving for crime and candy. Like with more "explored" characters, it escalated to being an individual trait over a species norm.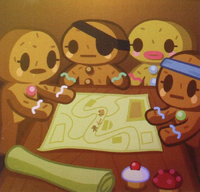 Gingerboys are said to work in "gangs" and Hansel is no exception. In Bug Club: Save the Day and the Monsterrific Comic Collection, Hansel is the boss of "Operation Doughnut", which only he seems to see the benefits of as the other gingerboys do not seem half as excited about stealing a van filled with donuts. His team does not understand the purpose or how the plan works, do not put on a balaclava like Hansel and also do not speak poetically to the donuts. It more so seems like they are running along with whatever Hansel wishes to do.
Hansel is shown to be the most capable in evil of all Moshlings, surpassing Big Bad Bill, but hardly gets away with anything he does and gets punished for it relatively bad, being either munched or made soggy which makes their body fall apart. In Moshi Twistmas, Hansel (or another Gingerboy) is munched in the head and held upside by Snowcrash to have their crumbs sprinkle like it is falling snow.
Bad to the Biscuit shows him to swift from a charismatic heist criminal Mission Impossible to a mafioso performing certain means of torture. ("Hooking" Oddie who already has a hole, replacing CutiePie's candle for dynamite) This torture is not really much worse than what Hansel and other Gingerboys seem to go through themselves.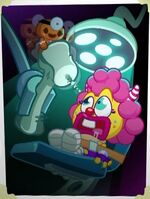 In The Movie, Hansel does not play any sort of role and like any Moshlings simply waits until being saved from the clutches of Dr. Strangeglove. Within the credits, Hansel is shown as a sadistic dentist[note 1] to have Sweet Tooth as their patient who is bound to the doctor's chair. Nothing shown in the movie led up this situation and on top of that Sweet Tooth does not even have any teeth left. They do have a phobia for the sound of a drill.
In Moshling Rescue!, Hansel is one of the secondary mascot characters. They are shown in the intro video where they peacefully read a book and after the eruption get trapped in purple gummy, unable to move and looking distraught. Hansel fleeing from Glumps for sanctuary in the Moshling Treehouse is the "Home Level" loading screen. In Trapped in Gummy!, Hansel is part of the performance and plays the piano, although they can not shown to be able to reach the floor peddles. They sing along with the lyrics and enjoy themselves, laughing when Fez Owl slides over the keys. Hansel's right arm breaks and is able to move without the rest of Hansel's body, also sliding over the key. At the eruption, Hansel uses the piano as a shield against the falling gummy.
Design
Gingerboys are gingerbread men; formed vaguely in the shape of a human and rather flat in dimension. While always shown with the same shape and same positioning of they eyes made of plump raisins, their decorations can vary, only shown to do so in colour. The shown decorations are two gummy buttons and frosting/icing on their "wrists" and "ankles". Jack and Mr. Crumbles have a pink mouth which might be pink icing around their mouth.
Their anatomy is sensitive, prone to crumble and gets soggy when wet. It is possible to burn them (Food Factory collectables) and bite through their head which alarms them but does not seem to do damage they cannot patch, or rather, bake up. The Moshling animation of Hansel shows them unable to separate their legs and s a result move by hopping around. Any other occasion - in artwork and in the animation of Bad to the Biscuit - shows Hansel to be able to move all their limbs freely.
Fully designed after the depiction of the Fairy Tale "The Gingerbread Man" contextually in "getting away", Hansel is both pursued in being a tasty snack as chased to pay for their crimes. Hansel's name is a reference to the Fairy Tale "Hansel and Gretel", which setting has a gingerbread house and the theme of leaving a trial of crumbs. While it means freedom for the children, it means getting caught for Moshi's Hansel.
Aside Psycho Gingerboys they have also been referred to as Half-Baked Biscuity Bullies/Baddies. While Moshi Monsters has had some issues with it's portrayal and naming deeming ableist, "Changing Faces" never made an issue of the misuse of the term Psycho.
Trivia
Gallery
Music Videos
Other
Magazine
Main article: Moshi Monsters Magazine
Main article: List of Moshi Monsters comics
Notes
Notes
↑ Dentists are often portrayed as sadistic in media due to everyone's fear of going to the dentist. Orin Scrivello from Little Shop of Horrors is an iconic example and may have influenced the reasoning behind putting Hansel in this spot.)
Community content is available under
CC-BY-SA
unless otherwise noted.