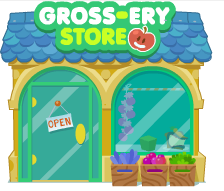 The Gross-ery Store (grocery store) is one of the shops in Main Street, owned by Snozzle Wobbleson, which stocks food and drink for monsters around Monstro City.
The player can find common and rare items. The items they can buy depend on the level they have achieved. The food and drinks can cost as little as 1 Rox to over 100 and changes every 15 minutes.
Sometimes there is holiday items, such as Twistmas Candy Canes and Switchy Day cake. The Gross-ery store is one of the three places in players can buy food. The other food shops are Rare and Scare and McDolphins.
Trivia
Gallery