The Gombala Gombala Jungle, previously named "the Bongo Bongo jungle"Big Bad Bill's old biography, is a big forest area located on Music Island and home to various Moshling species, most prominently Woolly Hoodoos.
Areas
Hoodoo Hideaway, or Hoodoo Central, home to Woolly Blue Hoodoos. (Blue torches)
Giant's Cave (Yellow torches)
Garden (Pink torches)
Twistmas Town
Unknown Zone, where Creepy Crawlies and plants to lure Naughty Nutters are found. It's where the Rhapsody 2 crash landed and the microwave with nuclear frog strangely appeared one day.
Walla Walla Watering Hole is home to the Green Hoodoo Tribe. It's where Purple Bananas grow.
Snaggletooth Swamp, or Crazy Bill's, is home to Crazy Bill and Dundee. It's where Oobla Doobla grows. Crazy Bill decorates his place with the items he fishes out of the swamp, such as tires and electronics. It's unknown how that material got there. (Green torches)
Appearances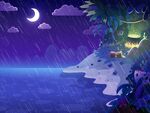 Inhabitants
Community content is available under
CC-BY-SA
unless otherwise noted.