Not to be confused with the Buster's Lost Moshlings: A Search-and-Find Book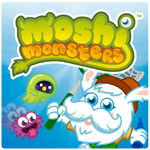 Buster's Lost Moshlings is the third app developed by Mind Candy and Penguin Books. It costs 69p in the United Kingdom and 99c in Australia on the App Store on any iOS device. 
Game Play
The story stars Buster Bumblechops whom has lost his Moshlings, as Dr. Strangeglove figured out the location of Buster's Secret Ranch. The player must save all the Moshlings found in Ooh La Lane, Main Street, Moshi Fun Park, Growl Mansion, The Port, Buster's Ranch and by clicking on the manhole, the secret and newly added, Halloween Mansion in Tracker Mode, Explorer Mode and in the Time Challenge. They player can also do special things, in-which will get them a trophy.
There are 71 Moshlings the player must find to complete their zoo. The zoo is different from the online one, as it only consists of the Beasties, Birdies, Dinos, Fishies, Fluffies, Foodies, Kitties, Luckies, Mythies, Ninjas, Noisies, Nutties, Ponies, Puppies, Roxstars, Secrets, Smilies, Snowies, Spookies, Techies, Tunies and Worldies. 
There are 80 trophies in the app, including 37 special ones, 22 species (Moshling) ones and 21 general trophies that are earned by completing each mode in a place.
Features
Six incredibly detailed Monstro City scenes to explore!
Complete two first scenes to unlock the door to Simon Growl's Mansion
Complete Simon Growl's Mansion to unlock The Port!
Complete The Port to unlock Moshi Fun Park!
Complete the Moshi Fun Park to unlock Buster's Ranch!
Tracker mode helps younger players find the Moshlings with Buster's help
Explorer mode lets you search on your own
Or race agains the clock in Time Challenge to find Moshlings before they get Glumped!
62 Moshlings to collect and store in your Moshling Zoo
Touch the scenes to find different animations
Win trophies and display them in your Trophy cabinet
Shake device to change Moshlings to find each scene.
Trivia
Unreleased and new Moshlings were seen in the Halloween level.
Within the zoo, the Luckies and Smilies set backgrounds are swapped with eachother.
The locations Growl Mansion, The Port and Buster's Ranch used to only be available through in-game purchases but are now free for all to access.
Despite updates removing Lady GooGoo from the game, they still cameo via a trophy achievement. 
Gallery
Community content is available under
CC-BY-SA
unless otherwise noted.