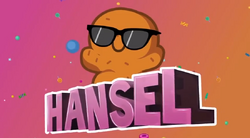 Bad to the Biscuit
is a music video featuring
Hansel
, a
Foodies
Moshling
.
The video was first announced on The Daily Growl where a blurred photo was posted by Roary Scrawl, which showed part of the video. Later on, a part of the video was posted on The Entertainer's YouTube channel and called 'Moshi TV - June 2013' After that, a few sneak peek images were released on The Daily Growl.
The video was eventually released in the Moshi TV Studios and on July 24th 2013, the video was uploaded on the Moshi Monsters YouTube channel.
Summary
During a cooking program, Baker Lady shows us how to make a gingerbread man, but accidentally creates Hansel. Hansel, being a menace, drives off in a donut car towards Monstro City. There are scenes in between where Hansel's body is being decorated.
But apparently he's not only a treat, he's a thread! He marches through the streets holding a candy cane, where fellow Foodies run from him in fear. It is shown he has threatened the treats. He had put a dynamite stick on Cutie Pie and set it ablaze in glee. He jumped into Coolio's "bubblebath" over at Candy Cane Caves, launching them out of it. He hung Oddie on a candy cane jabbed in a cake where he seems to yet decide what to do with Oddie, while Oddie tears up in fear.
While still being decorated in cutscenes, he is shown to steal some sort of cookies in a "Mission Impossible" matter. He runs after Jeepers, probably to harm them, but runs of when the tables have turned and Jeepers runs after him instead, due to tasting Hansel's delicious cookie body. After avoiding some ingredients back in the kitchen, Baker Lady manages to smack him down with a rolling pin.
Characters
Lyrics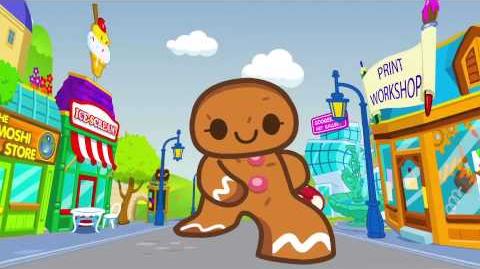 Now place this on a lightly greased baking tray in a pre-heated oven for approximately half an hour or until golden brown.

Oh no, it's Hansel!
He's b-b-b-b-bad to the b-b-b-b-biscuit!
Hansel!
Mmmmm! What's cookin' daddy-o?
Hansel!
Ooooh, gimme those gummy buttons!
Hansel!
Ooooh, plump raisins!

Crumbs!
He's walking down the street
He's feeling mighty mighty sweet
Now looking good enough to eat
But he's a half-baked hoooooligan~
So careful with that treat
Greasing up that bakin' tray

Hansel!
B-b-b-b-biscuity, baaaaby!
Hansel!
Mmmmm, smooth icing!
Hansel!
Scrumdiddlyumptious!

But he's a half-baked hoooooligan~
So careful with that treat

Hansel!
Mmmmm! Get me to the bakery!
Trivia
"Bad to the Biscuit" is a wordplay on "Bad to the Bone".
During the scene of Cutie Pie, the Glumpcake Wallpaper is in the background.
When Coolio is lauched, they look exactly like how they appear on their Mash-Up Card, series 2.
Gallery
Sneak Peeks
Music Video
Community content is available under
CC-BY-SA
unless otherwise noted.